Create chatbot landing page
Below are the steps to create direct link to the chat bot/playbook.
Login to our admin panel and go to AI builder (from the left sidebar menu)

Create a playbook under Web playbooks or choose an existing playbook under Web playbooks.

Go to Deploy menu as shown in the image below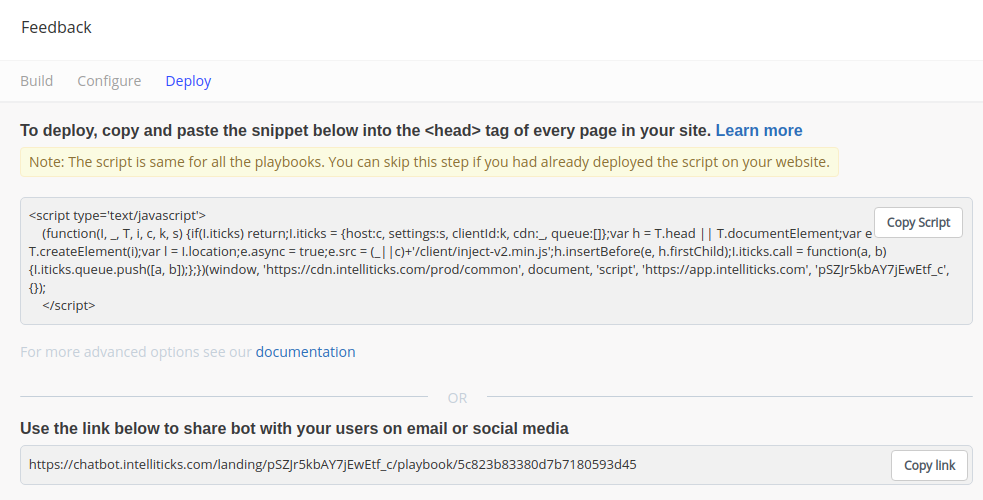 At the bottom of the page you can find direct link to the playbook/chat bot. This link can be used to share the chat bot with anyone or on your ad campaigns.
Open the link in a chrome browser.

Right click on the page and click on "view page source" to view the page source.

Copy the page source. You can deploy the above html to your own website with any URL or your choice.
Login to your WordPress account and navigate to dashboard.
Press "Ctrl + shift +Alt + M" it will change the editor.

​

​
Click on Add title and Add title of your choice for the page.

Paste everything you previously copied under the column "Insert Script to <head>".
<
body
class
=
"
iticks-landing
"
>
Click on Publish on the top Right corner of the page.

And you are done. The chat bot URL will be customised according to your website.
​
​